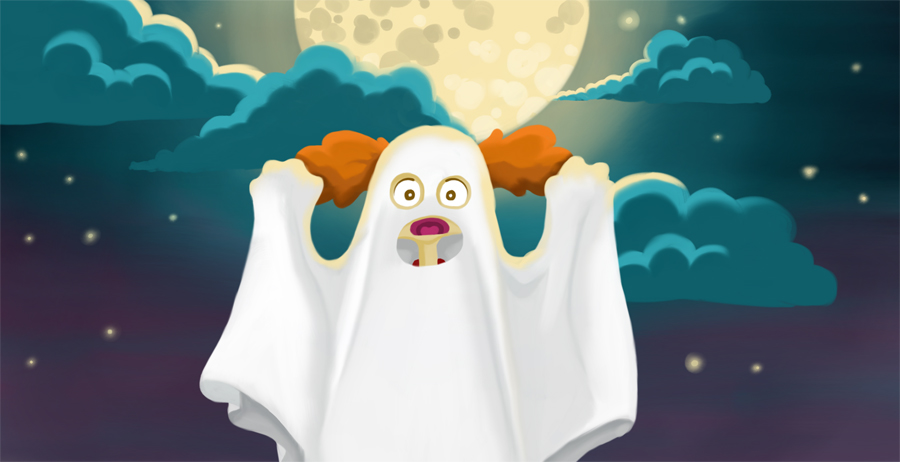 Tell us what Maggie should be for Halloween. Your idea will enter you in a drawing for a chance to win a FREE BOOK!
Halloween is one of those "take it or leave it" holidays but, for Maggie, it's a "take it" holiday. A "take it and run" holiday, actually. She's probably more a fan of the tricks than the treats (too many sprinkles, maybe?), but nothing too scary. A fog machine here, a few hand-made bats there, and a whole lot of imagination about what the night (and the month and a half leading up to it) might bring. And the costume? Well, she's usually got something in mind, but this year she's a bit stuck. She's been so busy with this whole Kickstarter thing that she hasn't had to time to think about her costume and now she needs your help!
So you tell us: What should Maggie be this year?
Part 1: Head over to Facebook, like our page, and tell us what you think Maggie should be by commenting on our contest post (look for Maggie the Ghost)! Every suggestion counts as one entry into the drawing for one free book! After we've got all your great ideas (see Rule 1), we'll pick our three favorites. If we pick your idea, you get an extra shot at winning a book!
Part 2: You vote (see Rule 2) on Maggie's costume! We'll post the three costumes we selected as three separate posts on Facebook. When the time comes, you'll "like" the costume (meaning "post") you like best in order to vote, and your vote will give you an entry at winning a free copy of Maggie and the Sprinkle Tree! We'll announce the winner (see Rule 8) and unveil Maggie's costume on Halloween (of course)!
Rules
1. Suggestion submission begins at 5:00PM PST Wednesday, October 16 and closes at 5:00PM PST Monday, October 21.
2. Voting will open on Tuesday, October 22 at 5:00PM PST and close on Monday, October 28 at 5:00PM PST
3. There is no limit to the number of suggestions you can make.
4. Everyone is eligible to vote for a costume even if they did not suggest a costume.
5. Voting is limited to one vote per Facebook account
6. Must be 13 or older to win (or have your parents win for you! But make sure to ask!)
7. Suggestions must be made as comments to our contest post on Facebook.
8. Free copy of Maggie and the Sprinkle Tree will only be awarded if the Kickstarter Campaign funds.
9. Winner will be selected by using random.org
10. Contest is only valid for participants living in the U.S.